We offer a wide range of inflatable obstacle courses for customers to choose from. Different sizes, themes, styles and levels of difficulty are available. They are perfect for outdoor body training,especially for outdoor expansion training. Children can race against each other as they go through the obstacle build inside, Big fun! If you would like to know more details or have any questions, please feel free contact us.
♦ Hysun OEM Inflatable Obstacle Courses Main Features:
1. Stitching: Double stitching & quadruple stitching.
2. Material: 0.55mm PVC tarpaulin
3. Printing: digital print, silk print, or hand painting
4. Blower: CE (220V, 50HZ) or UL (110V, 60HZ), plug can be customized.
5. Accessories: Repair kit (2pcs PVC tarpaulin material for each color which is used for inflatables,1pc glue).

♦ Hysun New Design 65' Inflatable Obstacle Courses Photos: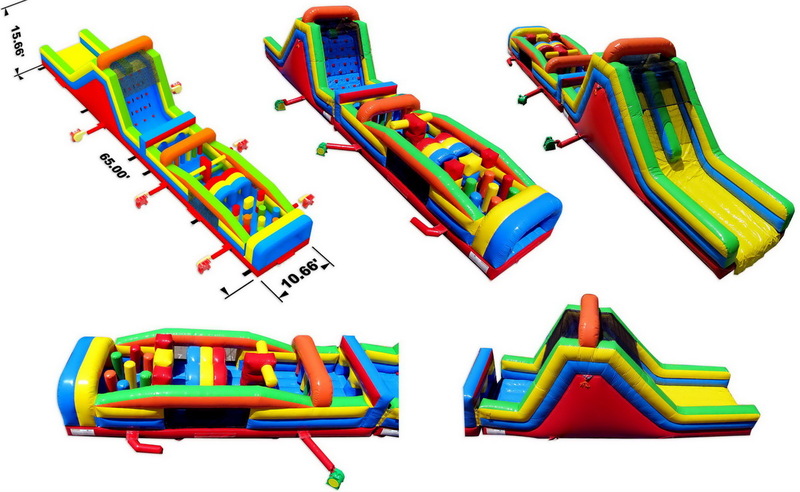 Ready? Set? Go! Race your friends through this gigantic 65 Foot Obstacle Course. Start the obstacle course by climbing through the blue entrance tunnel, then make your way through towers of blocks and tubes and climb through tight tunnels. After going around, up and over and through this maze of multi-colored obstacles, scramble up the blue climbing wall. Finally, slide to victory down the gigantic yellow slide. So much fun, you'll want to race again and again. Don't let the bright, fun colors fool you. This obstacle course is a serious workout.
♦ Hysun OEM Inflatable Bouncer Photos: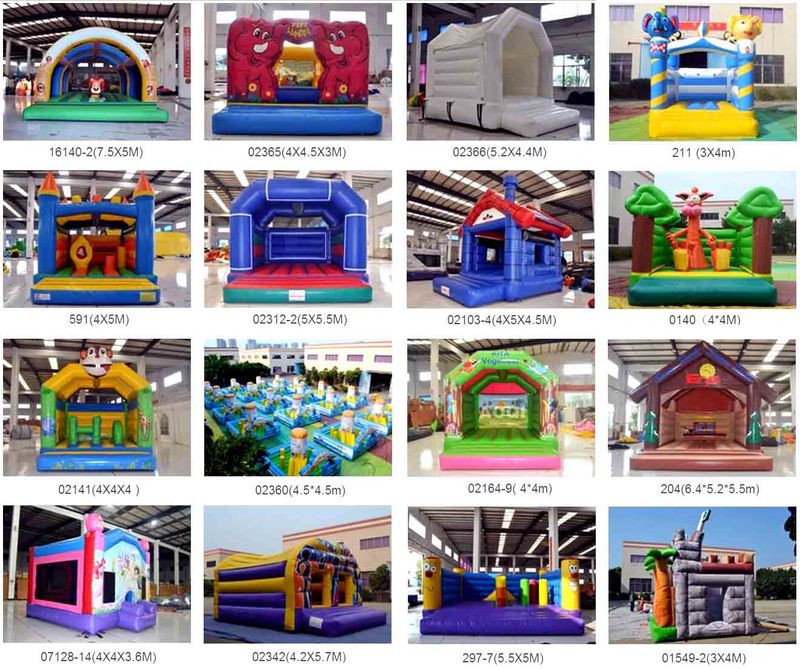 ♦ Hysun OEM Inflatable Obstacle Courses Photos:
Inflatable Tents / Air Tight Tents / Inflatable Games / Interactive Inflatables / Inflatables Water Games / Roller Balls & Water Walkers / Advertising Inflatables / Paintball Bunkers / Folding Tent / Mini Bouncers / Plush Electric Toy Car / Inflatable Bouncers / Inflatable Obstacle Courses / Inflatable Castles / Inflatable Combos / Inflatable Moonwalks / Inflatable High Slides / Inflatable Water Slides / Inflatable Standard Slides / Inflatable Mini Slides / Inflatable Fun City / Inflatable Tunnels / Inflatable Pirate Boats / Climbing Sports / Inflatable Football Games / Inflatable Interactive Games / Inflatable Sports Games / Giant Water Games / Inflatable Boats / Pools & Water Trampolines / Air Dancers & Light Tubes / Fur Costumes / Inflatable Arches / Inflatable Cartoons / Inflatable Models & Balloons / Moving Cartoons / PVC Balloons in Sky / Screens & Banners / Xmas & Holiday Inflatables / Inflatable Function Tank / Mini-Carrousel / Trampoline and Bungee / Babywalker / Rocking Toys / Plastic playground facility / Wooden Games / Rock Climbing / Soft Play / Jumping Animals / Electric Playground......