CKB470-15'Kayak & Inflatable Boat Crossover - Fishing 3P Kayak Boat!

Hysun Marine CKB470 kayak boat is a new and revolutionary product, which is a crossover between an inflatable kayak and an inflatable boat! It can be used as a regular kayak, just paddling anywhere you want, ocean, bay, river or lake. If you get tired, use an electric or gas engine installed on marine grade plywood transom.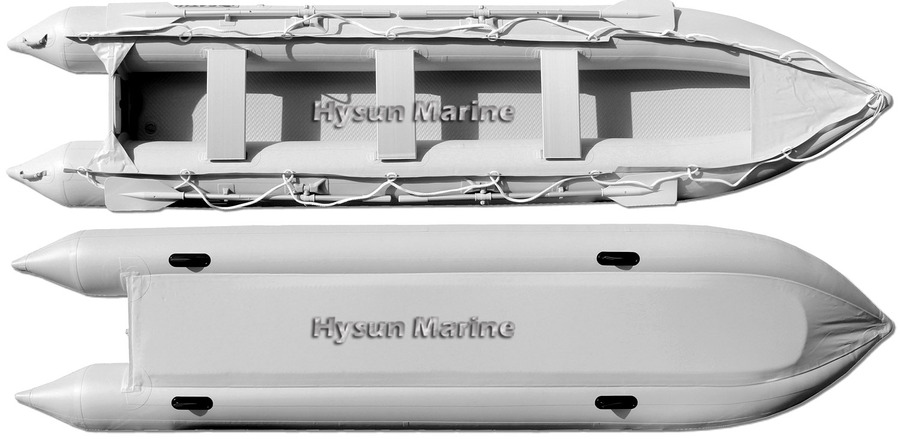 The 15' CKB470 provides maximum space and comfort due to the larger distances between aluminum seats and extra space in the front bow. Its high buoyancy provides support for more cargo and passengers.
Use the kayak boat as an inflatable boat with an outboard engine. It can take up to a 10 HP gas outboard engine or portable electric motor! If the battery charge or gas is low, then use as a kayak to paddle to your destination. You don't really need that big of an engine, even with a 3.5 HP engine, this boat will fly really nice with 2 people. Also tested to run nice and quite with an electric engine with speeds of around 5-7 mph and runs 2-3 hours at full speed. You can also put an electric engine on at minimum speed to run for up to 6 hours, and use it as a "ride assist" while kayaking with paddles to your destination far away.
All new CKB470 fishing kayak boats now come with 2(two!) sets of oarlocks in order to select best rowing position, or for attachments of optional second set of oars for tandem rowing. However, it still can be used as a kayak when navigation narrow or shallow places.

The kayak boat is extremely portable and will fit in medium size bag. Now you can go on vacation and take the KaBoat with you along with an optional small electric or gas engine. The main benefit is that if you get tired of paddling, then you can use the engine to get back ashore.
The kayak boat can also be used as a dinghy for yachts or sailboats to get ashore from the mainship. It is portable and takes up much less space then a regular dinghy.The kayak boat's exceptionally stable design allows you to stand, fly fish or even get into those narrow spots where other boats can't go to get the best fishing. Aluminum seats provide excellent support and can be customized by drilling holes and installing folding fishing chairs with a swivel base, or canoe seats for additional back support on a long trips. Please feel contact us for more details.
CKB470 kayak boat Standard Features:
1.Same heavy-duty 1100 Denier PVC as in Hysun inflatable boats.
2.Wide beam hull design for stability. You can stand in a kayak boat.
3.Front Spray Skirt with water deflector guard and rope lacing.
4.Marine grade plywood transom with a one way drain plug.
5.High-pressure inflatable air deck floor.
6.4 (four!) fins for improved tracking.
7.Set of rowing oars with 2 sets of oar locks for tandem rowing.
8.Set of rowing oars with oarlocks.
10.3 aluminum removable benches.
11.Included: hand pump, repair kit, 2 oars and carry bag.
CKB470 Technical Specifications:

Exterior Length

15' | 470cm

Exterior Width

42" | 106cm

Interior Width

14" | 35.5cm

Transom High

13.5" | 34cm

Tube Diameter

13" | 33cm

Shipping Size

45'' x 24'' x 13" | 114cmx60cmx33cm

Shipping Weight

85 lbs | 38.5kg

KaBoat Weight

64 lbs | 29kg

Person Capacity

3 + 1

Weight Capacity

900 lbs

Chambers

2+1

Material

1100 Denier PVC

Air Valves

Halkey-Roberts type valve

Max. Engine Capacity

10 HP

Inflation time

up to 10 min.
♦ CKB470 Kayak Boats Customers Photos: