12' Kayak & Inflatable Boat Crossover - Kayak Boat!
The Kayak Boat is Hysun Marine's newest invention, patent pending in China. A crossover between an inflatable kayak and an inflatable boat, CKB Series kayak boats take the best of both worlds to create a versatile option. Modeled after Asian Dragon boats, the CKB Series kayak boats' narrow profile helps it zip through water, reaching higher speeds than other boats even with less horsepower.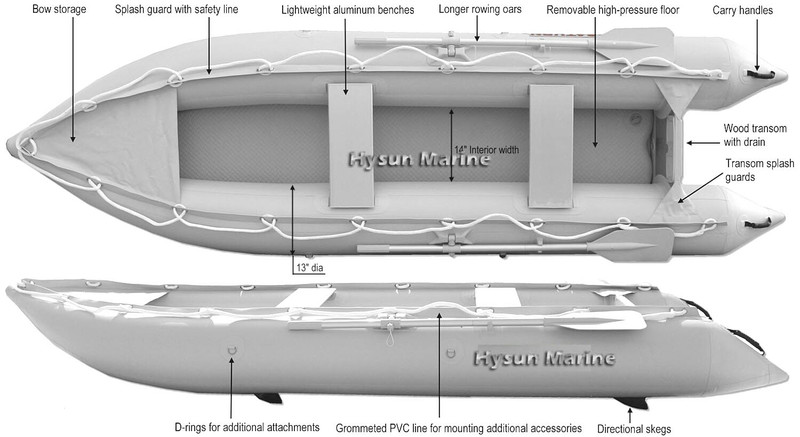 CKB Series kayak boats are light, and run great with an inexpensive electric motor, or small gas motor. Its streamlined design also allows it to be paddled with a regular kayak paddle, allowing you to get into tighter, shallower spots that other boats could not dream of reaching.
Extremely portable, the CKB Series kayak boat fits into a medium size bag. Instead of renting a boat while traveling, you can now take your kayak boat with you. Stable enough for flyfishing and casting while standing, this versatile craft is also agile enough to get you to the fish, wherever they may be. The CKB Series kayak boats also work great as dinghies for yachts and sailboats. The kayak boat is of exceptionally stable design, allows you to stand, fly fish or even get into those narrow spots where other boats can't go to get the best fishing.
An optional electric motor can act as a virtual "Ride-Assist". Just set the throttle to the 1st speed setting and it will help reduce rowing exhaustion. On the 1st speed setting, an electric engine can run around 12 hours (depending on battery size). The CKB395 kayak boat with an electric engine is an ecologically friendly, environmentally clean, real "Green" boat. Powerful 55Lbs short-shaft foldable electric trolling motors are available.If you have any questions about the boat,please feel free contact us.

CKB395 Technical Specifications:

Exterior Length

13' | 395cm

Exterior Width

42" | 106cm

Interior Width

14" | 35.5cm

Transom High

13.5" | 34cm

Tube Diameter

13" | 33cm

Kayak Packing Size

34"x21"x10" | 86cmx53cmx25.5cm

Shipping Size

45 x 24 x 13"|114cmx60cmx33cm

Shipping Weight

70 lbs

KaBoat Weight

48 lbs

Person Capacity

2 + 1

Weight Capacity

500 lbs

Chambers

2+1

Material

1100 Denier PVC

Air Valves

Halkey-Roberts type valve

Engine Capacity

2.5 HP

Inflation time

5-10 min.
♦ CKB395 Kayak Boats Customers Photos: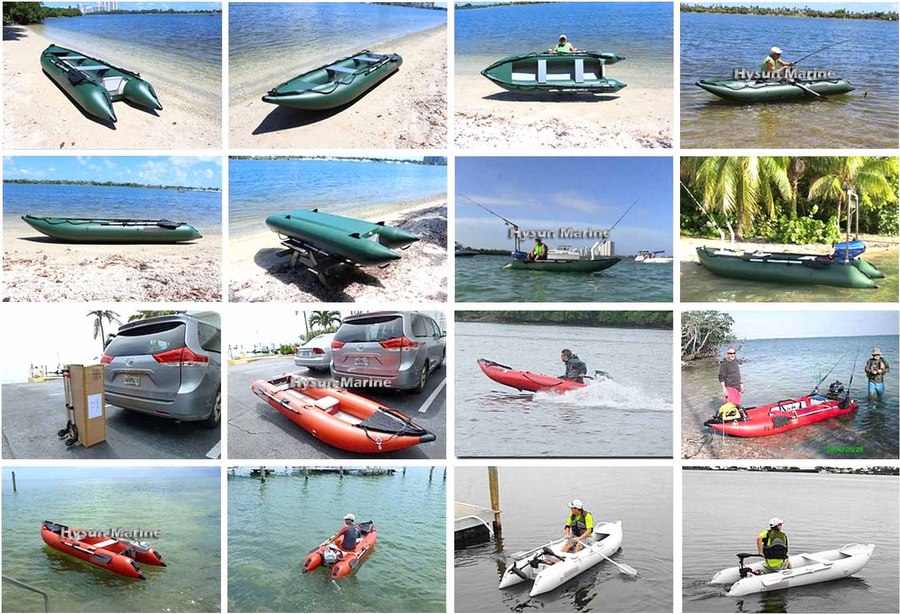 ♦Benefits of Hysun Marine kayak boat VS. conventional Kayak or Inflatable Boat:
1.Conventional plastic or fiberglass kayaks require significant storage space due to their large dimensions. The CKB Series kayak boats can be deflated and folded for easy storage and transportation.
2.Kayaks can be only paddled, but the CKB Series kayak boat allows you to use a small gas or electric engine to cover larger distances. If you get tired of paddling, you can start using an optional outboard engine.
3.CKB Series kayak boats are much more stable than conventional kayaks, allowing for standing and walking inside the Kayak Boat. In fact, you can fish standing or even ride while standing.
4.The CKB Series kayak boats can be used for diving, snorkeling, and fishing, however not many conventional kayaks can offer similar functionality.
5.Due to the high buoyancy of its inflatable tubes, the KaBoat can transport a much larger cargo than regular kayaks.
6.CKB Series kayak boats allows you to go to narrow or shallow places where regular inflatable boats will not fit. Just raise the engine and paddle anywhere that is at least 5" deep.
7.Due to its smaller chambers, it is much easier and faster to inflate a Kayak Boat than a regular inflatable boat.
8.Because of its narrow profile and a much lower drag than wide conventional inflatable boats, Kakay Boats can go faster with the same rated engine than comparable size inflatable boats.
9.CKB Series kayak boats can also be used as a dinghy to a yacht or sailboat, but take up much less space when deflated and folded. Kayak Boats also can be placed on a swimming platforms.
10.CKB Series kayak boats cost much less than any inflatable dinghies and most kayaks available today.
♦Most Recent Customer Review of Hysun Marine CKB395 Inflatable Kayak Boat:
"Hey, this is a recent photo of 13' CKB395 with aftermarket sail kit. BTW, I absolutely love the kayak boat. It's extremely sturdy -- clearly well-made. A serious boat. I was also impressed with how quick it was to assemble; it takes me less time to set it up than my inflatable kayak, which is only 10'. Also amazed at how hard the inflatable floor is. And the red is totally boss. ;) Also very impressed with how it rows. Not as sleek as a real rowing shell, obviously, but it moves along just fine. Love the new lower seat placement. Sails very well. Heels some when the wind picks up, but you can either hike out or simply lean. Haven't needed stabilizers yet. Also delighted with how easy it is to right the boat from the water when capsized (standing on an extended oar seems to be the best method) and especially with how it doesn't take on a drop of water when you flip it! My kayak can't do THAT. And it packs down to the same size as my 10' kayak and fits in the trunk of a Miata (which is about the smallest trunk there is). Awesome boat. Many thanks!" Patrick, TX
"Last Sunday I have tested the kayak boat with my family (my wife, my child and the little yorkie Maya) in Avigliana lake: It's really great, stable (also with the waves generated by the boat of water-skiing that hit the side of the kaboat) and fast. In the photo you can see my yorkie Maya that do not want descend from the KaBoat, she loves it. She slept all the time on the floor under my seat" Simoni, Italy.
"Hello, I purchased the CKB395 of red color and love it. The boat is better quality than expected and is great since I live in an apartment. Set up time from the back of my mini-van to water is about 5 minutes, I can often set it up and be out in the water before larger solid-hull boats can get off of their trailers and going. With my small outboard this things zips and since it doesn't weigh much at all, I ba rely use a gallon of gas all day. Anyways thanks for making a fantastic boat that I can afford on a college budget." Kevin, James River, VA.