Hysun Marine Introduced new, humongous capacity inflatable boat barge for large cargo transportation. Great as utility barge, fishing in a large group, or transportation of migrants and refugees across a globe. These boats are not only strong enough to cross Mediterranean waters to the Greece or Italy, but also to zip across an Atlantic Ocean with an ease.
Refugee boats RB models are large size boats are not just for transporting war-torn immigrants from Iraq and Syria. They are perfect for transporting refugees across the world fleeing destitute nations in areas like Africa and The Caribbean.These inflatable boats are flat bottom barges that are used to hold large weight capacity, and are not designed to go fast. If you would like to customize your boats or need more details, please feel free contact us.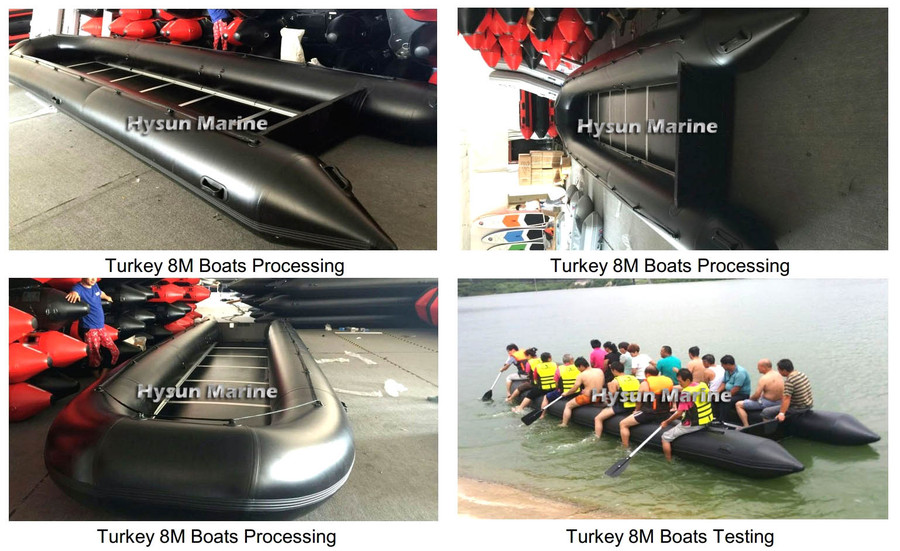 These features makes RB boats are great for transportation:
1. 2 Year Manufacturer Warranty for transom & seams. Cuts with knife are not covered.
2. Attractive Euro-style squared shape bow adds more useful space in front.
3. Flat bottom provided great support for larger freight.
4. 5 independent air chambers provides additional safety in case of emergency.
5. Large end tubes provide more buoyancy and support for more cargo.
6. Safety grab line all around the boat.