Hysun Marine OA Series boats are been designed originally as quick response boats for fire departments and rescue units, these aluminum floor roll ups can fill a variety of functions. Extremely lightweight, they are easy to store or carry and can be set up in minutes.
As a rapid deployment crafts made for search & rescue applications.Hysun OA Series Boat has been specifically designed to meet the demanding requirements of search & rescue organisations throughout the World.
Our OA Series Boats are highly portable and of compact packed size.All these specific features, together with the expertise of Hysun Marine, make the OA Series Boats the ideal partner when quality of design and manufacture count. Crafts could be of PVC or Hypalon and are available with aluminium deck or new aluminium+ deck. Please feel free contact us for more details!
♦ OA Series Boats Reference Photos: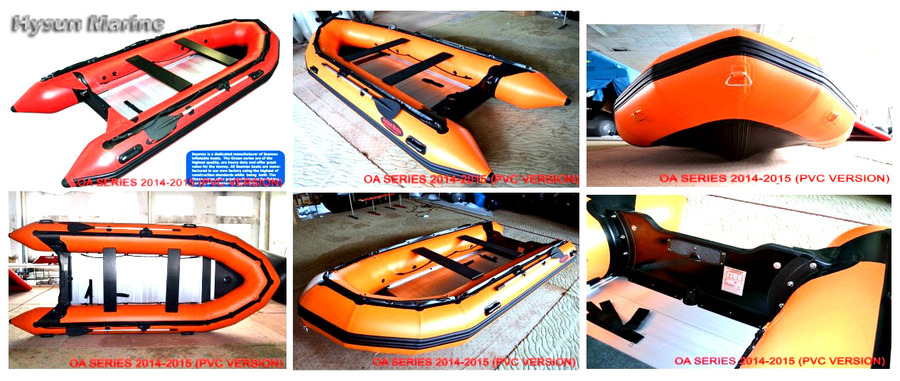 ♦ OA Series Main Features:

* Mirasol 0.9mm pvc fabric + 1.2mm bottom

* Use Hypalon boat seams technics

* Classic design (Been sold over 1000pcs

* 5 individual chambers from 380-470

every year in North America.)

* 0.9mm fabric reinforcement on side pontoon

* 36mm 100% brich plywood transom

* 5 new technics for transom water-proofing

* Transome with splash guard

(increase service life of transom)

* Rescue-level Nylon ropes for a secure grip

* Transom full size PVC reinforced & bolted

* Inner pontoon heavy duty life lines

(give strong support when engine over rated)

* Rescue boat towing ropes design on front

* All stainless steel accs been used

* 13cm wear-resistant rubbing strake

* inflatable keel "V area" inner reinforcement

* Bottom 15cm rubbing strake protection

* Bag, oar, pump, repair kits all included
♦ Specification:

♦ Hysun Marine Inflatable Boats Customers' Feedback: